Welcome to your quintessential monthly guide to all things love, luxe and life in Dubai this month. We have carefully selected the September edit of top dining picks, our late night 'Luxe Loves' options, and a couple of pool days and staycations for you to enjoy.
Step into September in style!
New Dining Launches
1. Sensational Saturdays at Nonya
The Brunch.
On Saturdays from 2 pm to 5 pm, NONYA Restaurant's culinary wizards will dazzle your taste buds with an array of delectable Pan Asian dishes, served directly to your table. But that's not all! Experience live cooking stations, the delicious Dim Sum trolley, with a sweet surprise waiting at our dessert activation – a massive donut wall. To top it off, sip on an exciting variety of cocktails, including exclusive specials or explore the extensive gin and martini selection at the cocktail stations.
The After Party.
As the clock strikes 5 pm, the day gracefully transitions into an electrifying evening with our after party that lasts into the late hours. Expect live music, top-notch DJs, and a dance floor that's ready to ignite. It's your chance to let loose, dance like nobody's watching, and create unforgettable memories.
The Details.
For reservations, visit www.risebrunchdxb.com or call +971 58 591 6268.
NONYA TAJ JLT | Pan Asian | Saturday | Brunch 2 pm – 5 pm | After Party 5 pm till late
Brunch: Non-alcoholic: 299 AED | House beverages: 349 AED | Premium beverages: 449 AED | Champagne package: 575 AED
After Party: 5 pm – 10 pm: 3 drinks for 99 AED
2. The Guild Launches Act II: The Rockpool and The Salon
The Guild, Dubai's answer to a bustling brasseries of New York and Europe has raised the curtain on Act II: The Rockpool and The Salon. At the helm of this epicurean adventure stands Melbourne-born trail blazer and EatX founder, Tom Arnel. The venture unfolds under the design of London-based architect David Archer, of celebrity haunts Chiltern Firehouse and The Standard Hotel. With The Guild, the two visionaries have created a decadent atmosphere of timeless sophistication designed for abundant pleasure and where feasting meets revelry.
Sink into The Rockpool, an enchanting retreat for seafood enthusiasts. A space overlooked by live king crab and Western Australian crayfish, The Rockpool also features a 12-meter raw bar with an oyster shucking station and a curated fresh catch display on ice.
The heart of The Guild comes alive with The Salon, a tribute to iconic grill rooms of New York and Europe, it's a dinner setting like no other in the city. Immersive and impressive in equal measure, the space's grandeur, roaring fire and striking chandeliers have had visitors calling this "one of the most beautiful dining rooms in Dubai".
Lastly, The Ritz Room at The Guild also joins the party. A private dining room for 16 guests is perched above The Rockpool, visible for private diners "to be seen" and is ideal for a convivial event or intimate dinner party with attentive, personalised service and custom menus.
As the curtain rises on this new chapter, The Guild invites guests to experience the journey where cuisine becomes art, and every dish a masterpiece starting from 8th September.
The final flourish is set to follow in Act III with the reveal of the cocktail bar, The Aviary.
3. Din Tai Fung Launches at Bluewaters Island
Din Tai Fung, the renowned Taiwanese restaurant celebrated for its authentic flavours and culinary excellence, is delighted to announce the launch of its newest location in Bluewaters Island, Dubai.
Marking a significant milestone as the brand's first standalone licensed venue in the UAE, this two-floor gastronomic haven offers an unparalleled dining experience, completed with a chic cocktail bar and exciting new menu items. With this expansion, Din Tai Fung seeks to captivate a diverse audience, providing an unforgettable culinary journey amidst the vibrant ambience of Dubai's bustling heart.
The Details.
When: Monday to Thursday 11AM to 12AM and Friday to Sunday 11AM to 2AM
For more information about DIN TAI FUNG Bluewaters call 04 288 7786
4.
Armani

/Ristorante Unveils Seasonal Mushroom Degustation Menu
Armani/Ristorante, the esteemed Michelin-starred culinary gem nestled within the luxurious confines of Armani Hotel Dubai, introduces its highly anticipated seasonal mushroom degustation menu, a culinary masterpiece that pushes the boundaries of gastronomy.
Exemplifying the restaurant's commitment to precise, modern Italian cooking, the new degustation menu showcases an artful interplay of flavours, textures, and nuances, embodying the epitome of elegance, sophistication, and luxury. The culinary experts at Armani/Ristorante have meticulously curated an exceptional gastronomic journey that transforms seasonal mushrooms into extraordinary works of culinary art.
The Details.
When: From 1st September to 30th September
Offer: Seasonal mushroom inspired degustation menu
Price: AED649 per person
For reservations, email restaurant.reservations@armanihotels.com or call +971 4888 3666.
5. En Fuego Ladies Night at Atlantis the Palm
En Fuego invites unwavering partygoers to gather their friends and head to Atlantis, The Palm for the launch of the Viva La Noche ladies' night. Set to take place every Thursday starting September 14th, from 9:00pm to 1:00am, ladies can anticipate indulging in mouthwatering South American cuisine, featuring a delectable two-course meal and three beverages, all for just AED 195.
Whether seeking a well-deserved catch-up session or an opportunity to dance the night away, prepare for an evening infused with merriment, laughter, and exhilarating performances.
Beyond the authentic South American cuisine, the package will include three beverages from an assortment of house spirits, wines, beers, and En Fuego's special cocktails inspired by the bold spirit of South America.
Guests will be able to immerse themselves in live entertainment, featuring a six-piece band playing popular South American hits, along with energetic dancers. Dance the night away with En Fuego's vibrant samba duo and experience a world of playful surprises with the Fire Gypsy.
The Details.
When: Every Thursday starting September 14th from 9:00pm to 1:00am, at En Fuego, Atlantis, The Palm
Offer: Viva La Noche Ladies Night
Price: AED 195 per person (21+)
For reservations, visit www.atlantis.com/dubai/restaurants/enfuego or call +971 4 426 0750.
6. 12 Days, 12 Michelin-starred Chefs: Abu Dhabi Exceptional Chef Series
Michelin-starred Chefs; Rodolfo Guzman, Mathieu Rostaing, Lucca Mattioli & Victoria Blamey in Abu Dhabi this September
Foodies in the UAE capital have cause to celebrate, as every Friday and Saturday from 8 September to 14 October the Abu Dhabi Exceptional Chef Series will see the emirate play host to a stellar line-up with 12 of the world's best Michelin-starred and '50 Best' chefs.
Commencing the series will be Michelin-starred Chefs; Rodolfo Guzman at Catch, St Regis, Mathieu Rostaing at Oak Room, The Edition, Lucca Mattioli at Board Eu, Shangri-La and Victoria Blamey at BB Social Dining Rosewood Abu Dhabi. Guests can book the experience through the selected hotel's website.
Abu Dhabi Culinary Season is partnering with legendary gastronomic talent from across the globe, with leading hotels and restaurants in Abu Dhabi as their stage, to create gourmet brilliance and cement Abu Dhabi's reputation as the culinary capital of the Middle East.
The Details.
8th September Catch, St Regis – Rodolfo Guzman, Boragó, Chile – Michelin Star
9th September Oak Room, The Edition – Mathieu Rostaing, Sillon, France – Michelin Star
15th September Board Eu, Shangri-La – Luca Mattioli, Mirazur, France – 3 Michelin Star
16th September BB Social Dining Rosewood Abu Dhabi – Victoria Blamey, Mena, New York – 2 Michelin Star
22nd September Talea, Emirates Palace – Benedetto Rullo, Lorenzo Stefanini & Stefano Terigi, Il Giglio, Italy – Michelin Star
23rd September Mate, Park Hyatt – Alberto Landgraf, Oteque, Rio de Janeiro – 2 Michelin Star
29th September MAZI, St Regis Saadiyat – Gregory Marchand, Frenchie, London – Michelin Star
30th September Hakkasan, Emirates Palace – Tala Bashmi, Fusions by Tala, Bahrain – Michelin Star
6th October Garage, W Abu Dhabi, Yas Island – Mehmet Gurs, Mikla, Turkey – Michelin Star
7th October Cafe Milano, Four Seasons – Chicco Cerea, Da Vittorio, Italy – 3 Michelin Stars & 50 Best
12th October Villa Toscana, St Regis Abu Dhabi – Julien Royer, Odette Singapore – 3 Michelin Stars
14th October Jose by Pizarro, The Conrad – Kim Alter, Nightbird, San Francisco – Michelin Star
For more information and updates on the Abu Dhabi Exceptional Chef Series, please visit visitabudhabi.ae/en @abudhabiculinary
---
Late Night Luxe Loves
1. Garage Nation Returns at the P7 Arena, Media One Hotel
Garage Nation returns on Saturday 16th September to its home at the newly refurbished P7 Arena, Media One Hotel. The refurb brings a long awaited pre-party bar area meaning you can warm up before you skank out to the very best in UK Garage music.
Headlining on Saturday 16th September for the first time in Dubai since 2018, is Gold-selling, Top 10 charting duo Oxide and Neutrino. The resident DJs Whitley Ruchea, Blaise, Tom Karno support alongside the newly welcomed resident DJ Ruuz and Dubai's much loved host, MC Tino. We see the return of MC Ultra who performs alongside the queen of the UK Garage scene here in Dubai, DJ Whitley Ruchea. Returning with all the energy is DJ Masterstepz and the lyrically unmatched Twin MC's from So Solid.
Get ready for an explosive night of good vibes, nostalgia and pure energy.
The Details.
When: 8 PM – 3AM
Where: P7 Arena, Media One Hotel
Price: Tickets start at 100 AED. Tables start at 3000 AED via www.garagenationdxb.com
2. Billionaire Dubai
Billionaire Dubai is finally coming home! Opening the red velvet curtains and bringing a hypnotic show from Friday September 1st, the Masters of Extravaganza are back in Dubai doing what they do best. Get ready for nights of unmatched vibes, exquisite performances, and a delectable spread of gourmet food at the sensational venue as they come together to bring forth an avant-garde experience.
The night is set to be an enchanting affair as the party moves to the illustrious Billionaire Club where a line-up of incredible world-class DJ's set the mood each night ensuring the re-opening party is just as much of a striking affair.
The Details.
When: Friday, 1st September onwards | Restaurant Timing: 9pm till late | Club Timing: Tuesday, Friday, & Sunday from midnight till 3am
Where: Taj Hotel, Burj Khalifa Street, Dubai   
Reservations:  Please call +971 (0) 4 510 3100 or WhatsApp: +971 (0) 56 678 3357
3. Q

's

Bar

& Lounge, Opens the Season with New Resident Artist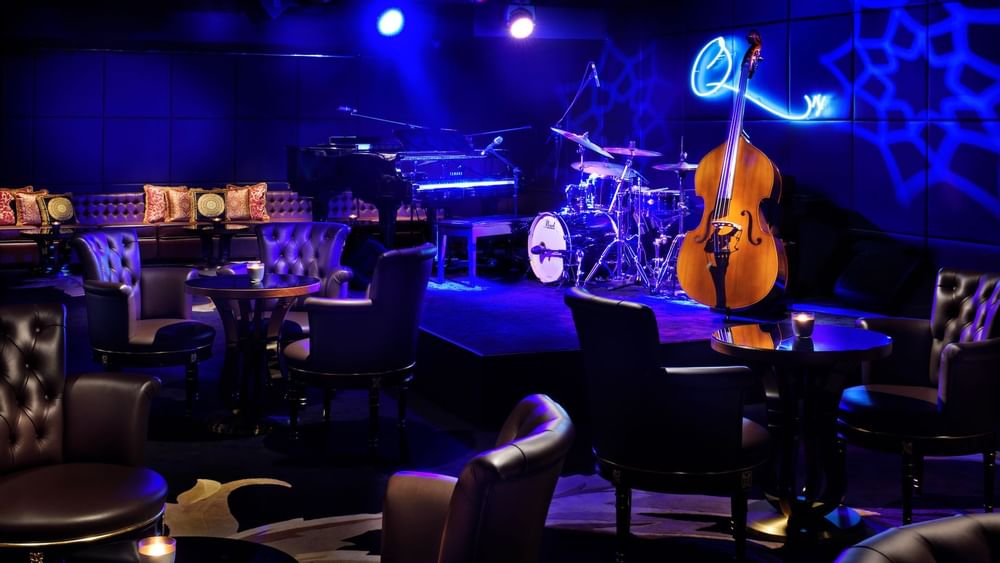 Netherlands-born singer and songwriter, Oumnia Guigui, is all set to take center stage at Palazzo Versace Dubai's famous live music venue, Q's Bar and Lounge, for the first residency of the season. Starting from Friday 1st of September, Oumnia will be the resident artist of the iconic venue, performing every Wednesday to Sunday.
Oumnia's sensational journey continues as she lands the two-month residency to perform at the widely loved Q's Bar and Lounge, where she will bring her soulful grit r&b and jazz vocals to the stage. Awarded as the 'Best Live Music Bar' in Dubai, Quincy Jones' first-ever bar showcases world-class performances from emerging artists handpicked by the music legend himself who has won 28 Grammys across his career.
The Details.
When: Wednesday to Sunday, 7 pm onwards
Where: Q's Bar and Lounge, West Wing, Palazzo Versace Dubai
Reservations:  Email dining@palazzoversace.ae or call +97145568805
Price: AED 250 per person minimum spend on Wednesday and Thursday and AED 350 per person from Friday to Sunday.
4. Sax And The City at the S Bar, SLS Hotel
S Bar, the iconic lounge perched on the 71st floor and featuring unspoiled city views, invites ladies to a sassy and chic ladies' night every Tuesday. Inspired by the phenomenal TV series celebrating ultimate women's empowerment and friendship, Sax and the City will be the go-to for all ladies looking for a sleek hotspot for a well-deserved mid-week night with the girls.
Only on Tuesdays, from 8 pm, four exclusive drinks will be on the menu each named after one of the inspiring four New Yorkers in the series: Carrie, Samantha, Charlotte and Miranda. A saxophone player is set to entertain and scintillate guests all night long, with a set-list of classic soulful hits. An amazing offer awaits all ladies with three cocktails and 25% off the delicious bar bites menu for just 99 AED.
The Details.
Price: AED 99 (including 3 drinks + 25% off bar bites)
Time: Starting 8 PM
Where: S Bar, 71st Floor at SLS Dubai
Reservations & prior booking required: 04 607 0654 | +971 56 417 3887  
---
Pool Days & Staycays
1. WET Deck at the W the Palm Dubai
This September guests can enjoy the sun and sand at WET and WET Deck daily.
Setting the stage for guests whatever the day may hold, whether it's relaxing at our private beach, a detox day by the pool or sunbathing at our deck, you will find the right vibe at WET and Wet Deck.
WET Deck is the epicenter of the W escape and allows guests to have it all, from mixing & mingling with signature cocktails near the DJ booth to soaking it all in by their sun lounges on the beach.
The Details.
When: Daily
Where: Q's Bar and Lounge, West Wing, Palazzo Versace Dubai
Reservations:  +971 4 245 5800 or email wetdeckdubai@whotels.com
Price: AED 250 per person minimum spend on Wednesday and Thursday and AED 350 per person from Friday to Sunday.
Price: Sunbeds – AED 200 on weekdays with AED 150 redeemable on food and beverage | AED 300 on weekends with AED 250 redeemable on food and beverage. Couples round beds – AED 500 on weekdays | AED 800 on weekends. Cabanas – Starting from AED 1,000 on weekdays | AED 1,200 on weekends. Jacuzzi – AED 2,000 on weekdays | AED 3,000 on weekends
2. Nikki Beach

UAE residents are invited to enjoy the sanctuary of seaside bliss away from all the hustle of the city as they embark on a sun-kissed staycation experience at Dubai's quintessential beach getaway resort. Guests can savour in the dishes from the renowned Café Nikki featuring dishes made from the freshest ingredients, including highlights such as the Nikki Beach Caeser, BBQ Bites, What's the Story, Yakitori, and much more.
The Details.
Only until September 30th, residents can purchase the staycation package, which includes: 30% off of the Best Available Rate for a 2+ night stay | Complimentary breakfast at Café Nikki | 30% off treatments at Nikki Spa | Use of Tone Gym and thermal zones at Nikki Spa | Complimentary entrance to the beach club during the stay
To redeem the offer, guests will need to present a valid UAE ID and mention code 'STAYCATION'. For additional information and reservations: Reservations.Dubai@nikkibeachhotels.com or +971 4 376 6000
3. Summersalt Beach Club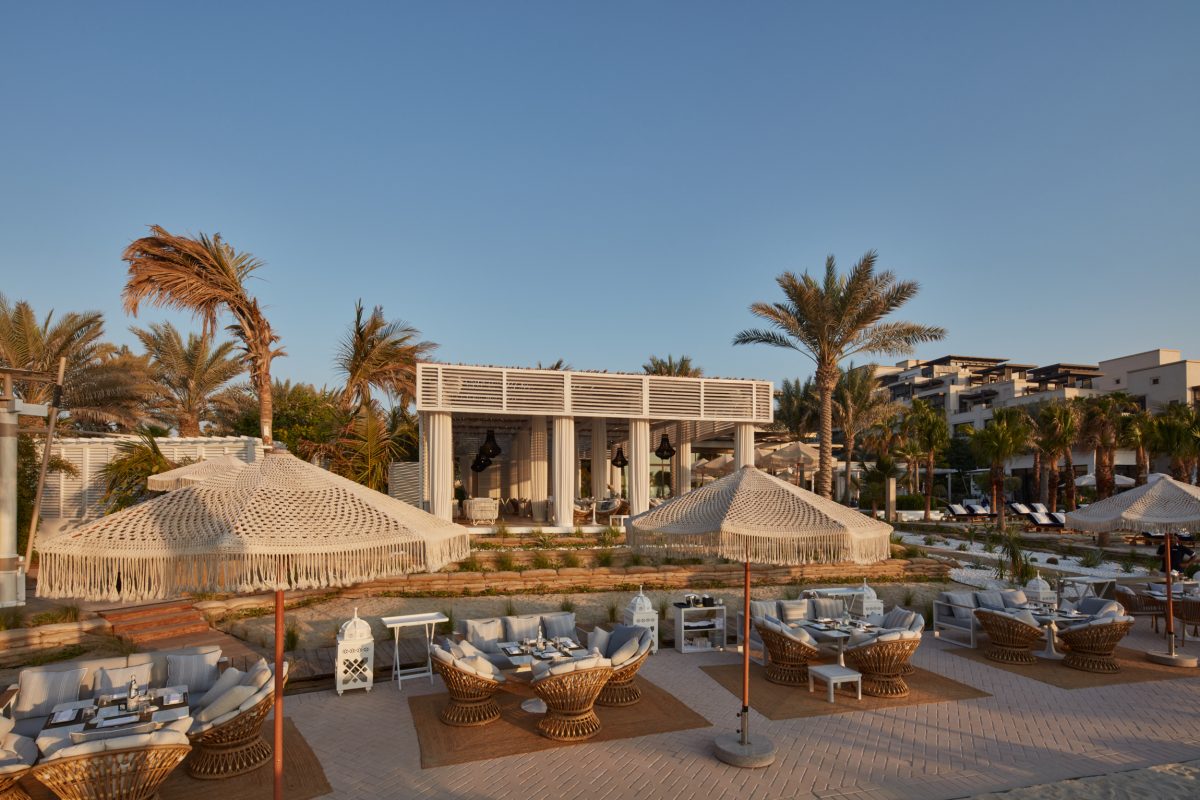 Summersalt Beach Club reopens this September revealing a freshly invigorated beachside menu, thoughtfully paired with refreshing signature cocktails. Embracing the vibrant fusion of Latin American flavours, the menu presents an array of options from delicate bites to signature sushi and ocean-fresh seafood. Whether for a relaxed seaside lunch or a sophisticated dinner, this culinary experience promises to transcend expectations and delight the senses.
Menu to include: Ceviche de Lubina y Ají Amarillo (Sea bass, yellow chilli tiger milk and crispy calamari) Tataki de Bife de Chorizo (Wagyu beef striploin tataki, chimichurri, teriyaki and chilli sauce) and Bacalao Negro Caramelizado (Miso-caramelized black cod). The new menu will showcase Summersalt's Signature sushi, with options such as Salmon Aburi with Yuzu Chives, Sea Bass with Shiso Salsa and Canadian Lobster with Unagi. With the restaurant's open terrace, guests can enjoy the inside, outside seating, with iconic views of the Burj Al Arab and uninterrupted sea views.
Escape the ordinary and embrace the extraordinary with Summersalt's Day Passes. Choose from one of the day pass options – whether you're seeking a weekday getaway or a weekend retreat, this beach club is exactly the luxury you'll need. For ladies there is a special offer for the month of September, with a day pass Monday – Thursday for AED 250, guaranteeing a day of elegance and leisure.
With an array of day pass options available, whether you opt for a leisurely lunch or desire access to the pool and beach, it's time to plan ahead for an unparalleled beach escapade that stands apart from the rest.
The Details.
When: Daily – Beach Club, Daily: 09:00 – 19:00 | Restaurant, Daily: 12:30 – 00:00
Price: Daily: AED 800 with 400 F&B credit or AED 500 (non-redeemable) | September Day Passes Price Ladies Day:
Monday-Thursday AED 250 (non-redeemable)
Reservations:  04 366 7680 / Instagram: @summersaltbeachclub
---
For more news & events in Dubai click here.
READ THE LUXE DIARY TO DISCOVER HOW TO LIVE A LIFE WELL-LIVED. FOLLOW US ON INSTAGRAM, & FACEBOOK.