Welcome to your quintessential monthly guide to all things love, luxe and life in Dubai this month. We have carefully selected the October edit of top dining picks, the best beach club season opening parties, and some handpicked lifestyle 'Luxe Loves' for you to enjoy.
Live October in style!
New Dining Launches
1. Celebrity Chef Series
More Cravings by Marriott BonvoyTM is well-known for curating unforgettable dining experiences, and this Celebrity Chef Series promises to be no exception. The event will showcase a diverse array of celebrity chefs across acclaimed restaurants including the likes of Jason Atherton, Massimo Bottura, Richard Sandoval, Vineet Bhatia, and Alex Stumpf, offering guests a chance to indulge in exquisite cuisine while rubbing shoulders with culinary legends.
This fortnight long showpiece will be open to the public, ensuring that food enthusiasts, Marriott Bonvoy members, and the local community alike can participate in this culinary celebration. It's not just an opportunity to relish delectable dishes; it's a unique dining experience where guests can engage with celebrity
chefs
, learn about their culinary secrets, and witness their artistic skills firsthand.
The Details.
Torno Subito at W Dubai – The Palm | October 10 & 11
AED895 per person for food only, additional AED495 for beverage pairing
–
Tong Thai at JW Marriott Marquis Hotel Dubai | October 13
AED245 per person for 5-course menu (food only)
–
Toro Toro | October 9 – Maya by Chef Richard Sandoval | October 10 – Zengo | October 15
Cooking demo and meet & greet.
AED225 for Richard's Special Platters per person (valid from 9 October – 15 October)
–
Indego by Vineet at Grosvenor House, a Luxury Collection Hotel, Dubai | October 2-15
Meet & Greet at Indego by Vineet
Chef's curated 4-course menu
AED 400 per person
2. Two Culinary Experts Collaborate for a "Chef's Night Out" on October 16
Prepare for a twelve-course meal presented by Chef Kelvin Cheung of Jun's and Chef Himanshu Saini of Tresind Studio, in the utmost stylish setting.
Jun's, the pioneering restaurant that operates without borders, is hosting an extraordinary one-off event for all gastronomes to enjoy. Multi-award-winning Chef Kelvin Cheung is partnering up with the renowned Chef Himanshu Saini of Tresind Studio, for an incredible evening filled with mouthwatering food and upbeat settings.
Frontiers in the culinary industry and with astonishing accolades behind each of them including Dubai's Michelin Guide, MENA's 50 Best Restaurants, and Gault & Millau Awards, the upscale event certainly promises to be nothing short of exceptional.
The two iconic chefs will be serving each of their six dishes alternatively while guests experience the elegant service and unique surroundings.
The Details.
Date: Monday, 16th October
Time: 7PM onwards for the ticketed dinner, 10PM onwards for bar snacks and cocktails open to the public
Price: AED395+ per person for a twelve-course set menu, with select cocktails for AED45+ each
To Book: Please call +971 (04) 457 6035 or Whatsapp – +971 509389099
3. Legendary Traiteur Brunch Returns
Prepare for a luxurious culinary journey as the highly anticipated Traiteur Brunch makes its return to Park Hyatt Dubai on October 14. The city's favorite brunch spot promises an exquisite experience with mesmerizing views of the creek, seamlessly blending the city's beauty with its outstanding cuisine, stunning cerulean views, and a vibrant atmosphere.
Traiteur Brunch is an exceptional modern French feast presenting a variety of delectable brasserie-style dishes, perfect for relishing alongside friends and loves ones.
The Details.
Date: Every Saturday, starting October 14 2023 | Time: 1pm – 4pm | Price: AED 495 with non-alcoholic beverages | AED 695 with sparkling beverages | AED 825 with champagne | AED 925 for premium beverages
Location: Brasserie Du Park, Park Hyatt Dubai
For more information and reservations, call 04 602 1814 or visit Park Hyatt
4. Amazonico Launches 2-Course Business Lunch
As the city ushers in the new season, Amazónico Dubai presents its Menu Ejecutivo with a new two-course option of their well-known and loved business lunch offering. Located in the heart of Dubai's corporate and financial epicentre, Amazónico's newly updated offering is geared towards guests looking for a quicker and lighter weekday dining experience.
The menu begins with a selection of small and refreshing raw bites; from the tangy Ceviche de Salmon prepared with tamarind sauce, radish, and cashew to the light yet hearty Ensalada de Verano.
For the main course, classic Latin American dishes have been given an Amazónico twist. From the Carrillera; slow-cooked wagyu beef cheek with spicy carrot purée, pickled onion, and lulo fruit, to the Espinica y Coliflor; sautéed spinach, roasted cauliflower, and caramelised onion served with a creamy garlic sauce.
For dessert, you can try the Tarta de Zanahoria, an inventive carrot cake with cream cheese mousse, orange cream, and carrot ginger granita, or the signature Piña Rostizada with roasted caramel-glazed pineapple and corn cake served with a light coconut sorbet and a selection of homemade icecreams.
The Details.
Date: Weekday, from Monday to Friday | Time: 12:00 pm to 3:00 pm | Price: AED 110 – 2 course | AED 135 – 3 courses | AED 160 – 4 courses
5. CLAP Dubai Business Lunch
Elevate your lunch experience at CLAP Dubai in the vibrant DIFC where elegance effortlessly mingles with a relaxed ambiance, creating the perfect setting for business and pleasure alike.
For just AED 115, immerse yourself in a fusion lunch menu of Japanese tradition and contemporary innovation, available on weekdays from 12:00 pm to 3:30 pm.
Take it to the next level by upgrading your set menu from 2 to 3 starters, only for an additional AED 30.
For those seeking something extra special, indulge in signature dishes like Shrimp Tempura with Spicy Chili Mayo, Black Cod Miso, or Stone Bowl Wagyu, available for just AED 35 per dish as part of our starters or main menu.
Complement your meal with our exclusive Veuve Clicquot Brut, priced at AED 80 per glass or AED 480 per bottle.
Start with soothing Miso Soup, explore unique starters like Wagyu Beef Tartare & Biwa Caviar, and savour main courses like Marinated Lamb Rack or delicate Shoyu Chilean Sea Bass.
End on a sweet note with innovative desserts like Tira'Miso or Vanilla-Peanut Millefeuille.
The Details.
Reservations & information:
+971 4 569 3820 | www.claprestaurant.com
6. The Great British Brunch Returns to Bread Street Kitchen & Bar
Promising an authentic culinary experience, the Great British Brunch at Gordon Ramsay's Bread Street Kitchen & Bar is back bigger than ever, showcasing more classic delights and entertainment for the whole family.
Inspired by the bustling food markets in London, the brunch will offer quintessential British cuisine to delight all family members. From Roast Beef and Salmon En Croute to classic fish and chips, guests will be able to savour a range of signature dishes, followed by complimentary access for the whole family to the enchanting Lost Chambers Aquarium.
For little ones, there will be a range of family-friendly activities for kids to participate in, including culinary masterclasses, as well as fun-filled arts and crafts activities. Young family members will also receive branded chef's uniforms, enabling them to step into the shoes of culinary maestros while creating their own tasty masterpieces. They will also be able to immerse themselves in cookie decorating and pizza-making classes as well as a range of other activities, each offering something different every week.
The Details.
Date: Every Saturday from Saturday 7th October | Time: 12:30pm to 4:00pm
Price: AED 695 per person with alcoholic beverages, including champagne | AED 450 per person with alcoholic beverages | AED 350 per person with soft beverages.| AED 150 per child (aged 4-11 years) | Children under the age of 3 dine free | All ages welcome.
To find out more or to make a reservation, call +9714262626 or visit Bread Street Kitchen.
7. Mina's Market
Bringing the celebration of London's culinary melting pot, the newly created Mina's Market by British Chef, Nick Alvis is serving up your favourite tastes of British culinary delights.
Running every week, from 6:30 pm – 10:30 pm from Wednesday, October 11 British chef Nick Alvis and the team behind Mina's Kitchen at Westin Dubai Mina Seyahi Beach Resort and Marina have masterminded an authentic experience and a taste of London's Borough Market.
A vibrant British Brasserie atmosphere where market-style stalls are set up offering spreads of classic British hearty staples from short crust pastry pies to the thick, creamy curries like Chicken Tikka Masala – British style, fresh meat and fish and of course desserts that scream "just one more bite!".
The Details.
Every Wednesday from October 11 from 6.30-9.30 at Mina's Kitchen at Westin Dubai Mina Seyahi
---
Beach Club Season Opening Parties
1. Twiggy Season Opening Party
Renowned DJs Culoe de Song, Floyd Lavine & Zakes Bantwini at Twiggy on 21 October. The grand opening of the season kicks off on Saturday, October 21 2o23, with DJs Culoe de Song, Floyd Lavine & Zakes Bantwini spinning the decks at Twiggy.
Head to Twiggy for Afro House tunes and Mediterranean spirit dancing in the sand to celebrate to opening of the season!
Advanced bookings required. The beach club will open its doors from 11am
The Details.
For more information and reservations book@twiggy.ae | +971 (0)4 602 1105
2. Nikki Beach White Party
As one of the most coveted events of the year, guests are encouraged to don their best white outfits and join the White Party known for its energetic vibe as Nikki Beach Dubai transforms into a haven of celebration enveloped in a sea of white.
Mark your calendars for October 28th and step into an enchanted realm beneath the open sky, where music, dance, and delightful surprises collide.
The Details.
Date: Saturday, 28th of October | Time: 11am until late | Location: Nikki Beach Dubai – Beach Club and Restaurant
For reservations, please email Nikki Beach Dubai team reservations.dubai@nikkibeach.com or contact via +971 54 791 0049
3. Summersalt Beach Club Opening Party | 14 October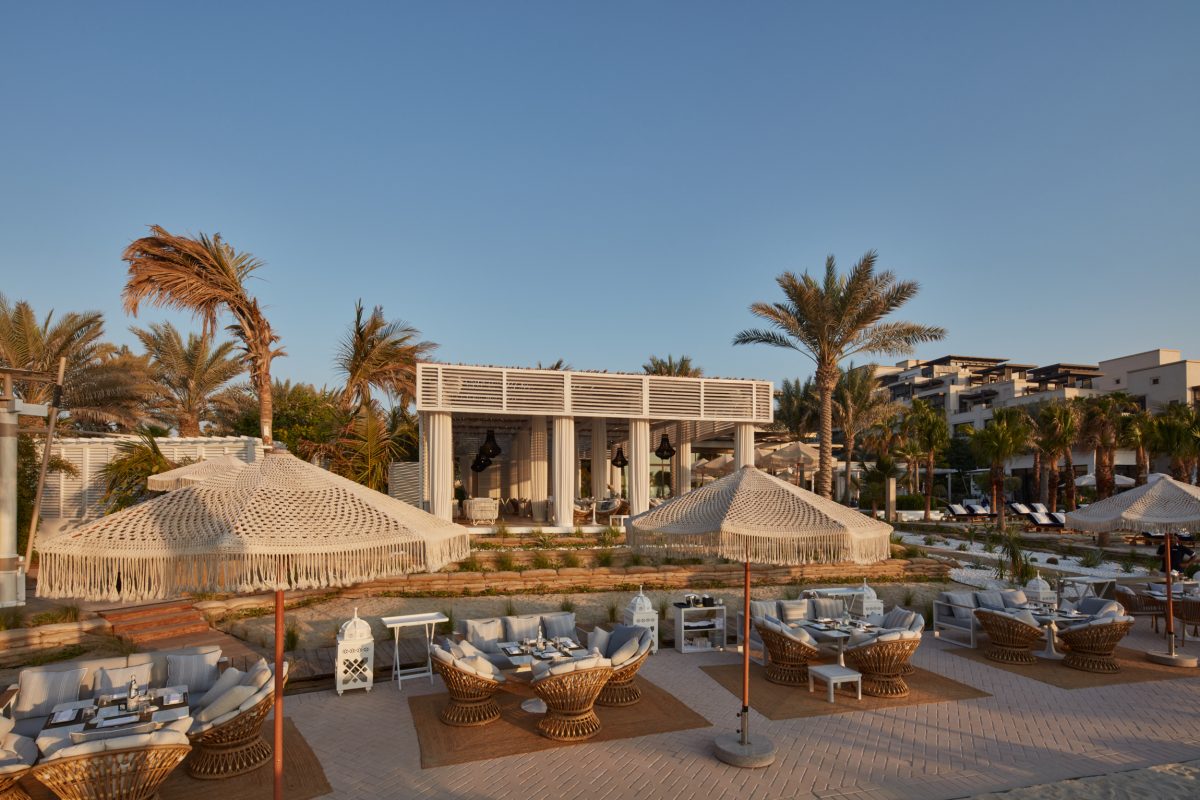 Welcome in the new season at Summersalt Beach Club's opening party on Saturday 14 October. With eclectic entertainment running throughout the day, this is a season opening not to miss. From sax players, DJs, violinists and dancers, reserve a bed on the pristine beach to ensure you don't miss a moment of the action. From sun, sea and sumptuous beachside dining by day and a lively atmosphere flowing into the evening, this experiential party is set to transcend expectations.
Sip on a cool, crisp drink and let the music flow through you with a world-class DJ line-up which includes: Bona Fide, a Producer & DJ focused on exploring beautiful, emotional and melancholic shades of house; the internationally renowned Darko De Jan and the genre-defiant VICTHOR. Plus, Summersalt Beach Club's resident DJs, Luca, Shahin & Mikownite will host individual sets, continuing the celebratory vibe.
Situated along the beachfront of Jumeirah Al Naseem, Summersalt Beach Club promises an unmatched view of Burj Al Arab Jumeirah mixed with a blend of luxury and leisure, where every moment is an experience to cherish.
The Details.
When: Saturday 14th October | 12PM – 9PM | For Reservations: 04 366 7680
Day Passes, Pricing (applicable on 14 October):
Daily: AED 800 with 400 F&B credit or AED 500 (non-redeemable)
4. DRIFT Beach Dubai | Now Open for the Season
While this mention is not for a specific opening event we are pleased to list DRIFT Beach, which is now open for the season. DRIFT Beach Dubai is undoubtedly one of Dubai's most iconic venues. Nestled on the coast with stunning views of the Palm Jumeirah and Dubai Marina Skyline, an afternoon at DRIFT Beach is an unforgettable experience.
Dubai has a plethora of beach clubs and staycay experiences on tap that are all a bit 'Extra'. And we love that about Dubai – who doesn't? But what we found at DRIFT Beach was different. We found not only great service, delicious food and incredible amenities – but also atmosphere. Stylish and yet relaxed. Discretely chic. Completely unpretentious and yet incredibly high standards of hosting. Seemingly effortlessly chic.
The Details.
Read the full Luxe Diary review of DRIFT Beach here.
---
Lifestyle Luxe Loves
1. Van Cleef & Arpels Dance Festival
Van Cleef & Arpels has been devoted to supporting the field of dance since the founding of the Maison. Guided by the values of creation, transmission, and education, they launched The Dance Reflections by Van Cleef & Arpels Dance Festival last September in partnership with NYU Abu Dhabi.
The next performance will be: Dance Reflections Frontera By Dana Gingras/ Animals of Distinction on Thursday, October 12 at NYU Abu Dhabi Arts Center.
In FRONTERA, choreographer Dana Gingras explores spaces of inclusion and exclusion, tackling borders as boundaries between the public and private realms. Animals of Distinction's nine dancers — their bodies mapped in high resolution, their destinies unresolved — contend with the ideas of 'a real or imaginary dividing line' and the extreme limits of understanding.
The Details.
When: 12 October | Where: NYU Abu Dhabi
For more information click here.
2. Martyn Bullard – Releases STAR STYLE
Martyn Lawrence Bullard – the world-famous celebrity interior designer, who this year is celebrating his 30-year anniversary – who this month is releasing his tell all design book STAR STYLE.
Martyn is a world-class talent and notably the longest standing, living interior designer on the AD 100 list (17 years voted top 100 worldwide) and the largest award-winning designer in the US. He is known for his trademark glamour and flair for the exotic as he curates sophisticated and inviting interiors for Hollywood A-listers and global glitterati, including Kendall Jenner, Khloe Kardashian, Kourtney Kardashian, Tommy Hilfiger, Cher, Ellen Pompeo, and Eva Mendes, to name a few.
Beyond his exquisite residential portfolio, Martyn has also overseen the design of several premier hospitality properties around the world including the iconic Colony Palms Hotel in Palm Springs, Chateau Gütsch in Lucerne, Switzerland, and Chef Rick Bayless's flagship Red O restaurant.
In his new book STAR STYLE, the designer takes readers inside celebrity homes. With a foreword by Cher, the book first turns the lens on his own properties in Los Angeles, before peeking inside the homes of an array of glitterati from the worlds of music, fashion, stage, and screen, as well as some of his most luxurious commissions for private homes and boutique hotels.
Martyn's impressive mastery of a broad range of styles, paired with his unrivalled attention to detail and commitment to quality has earned him significant international acclaim. His work has appeared in over 4,000 publications worldwide.
The Details.
Stay tuned for details of where to get hold of STAR STYLE!
3. Assouline Launches at THAT Concept Store
THAT Concept Store launches first Assouline branded corner in the region featuring a unique immersive space.
The launch event was inaugurated by Alex Assouline, and Co-Hosted by Dubai based Author Myrna Ayad and Majid Al Futtaim Lifestyle CEO, Fahed Ghanim.
THAT Concept Store, the homegrown multi-brand destination owned and operated by Majid Al Futtaim Lifestyle's is proud to announce the addition of luxury publisher Assouline, at its three-level multi-brand store within Mall of the Emirates. The iconic French luxury brand returns to Dubai with a branded corner experiential space, in an immersive 60m2 corner located on the second floor of THAT Concept Store.
In the new space, visitors can also explore Assouline's unique objects and library of accessories such as assorted bookstands, stationery sets, and the brand's iconic decorative sheep. These emblematic pieces emphasize the distinct energy that characterizes all of Assouline locations around the world.
Internationally, Assouline's corners and boutiques provide memorable experiences, which will again be offered in Dubai, a city that in itself is unforgettable.
The Details.
For more details on this launch read our full article here. For information, please visit THATConceptstore.com
4. The Ultimate October Birthstone Edit by Maria Tash
We are so excited to list that fine jewellery and celebrity piercing brand, Maria Tash, is unveiling its latest October Birthstone Edit, showcasing the mesmerizing Opal.
Opal, a precious gemstone renowned for its iridescent play of colours, takes centre stage in this curated edit. The intricate inner structure, composed of countless tiny spheres, gives Opal its unique shimmering appearance. Maria Tash offers a diverse range of Opal-adorned styles, from the edgy spike granulated clicker to the timeless elegance of the classic diamond-centred threaded stud.
Embrace the charm of Opal's hues and add a touch of enchantment to your or a loved one's jewellery collection with Maria Tash's Opal selection.
The Details.
All pieces are available on mariatash.com, in the Maria Tash Dubai Mall and Mall of the Emirates Boutiques.
---
For more news & events in Dubai click here.
READ THE LUXE DIARY TO DISCOVER HOW TO LIVE A LIFE WELL-LIVED. FOLLOW US ON INSTAGRAM, & FACEBOOK.